How to use

step 1

Mix

Mix a couple of teaspoons of any blend with olive oil and crushed garlic (if you like).

step 2

Rub

Rub the mix into your chicken, beef, fish or veggies.

step 3

Cook

Cook however you like—in the pan, oven or atop a grill—then serve and enjoy.

What's in the kit

Smokin' Red Blend

A family favourite, this harmonious blend balances exotic sweet and smoky flavours with a savoury touch. An instant mealtime go-to – a lil' spicy from the hot paprika, a lil' savory thanks to the cumin - you'll wonder how you ever cooked without it. So great in any tomato and paprika-based recipes, just add in a spoonful anytime you want to up the smoke-factor.

Bold Brown Blend

A punchy blend that combines sweetness with floral notes and non-hot spice for food that truly stands out. When you're looking for a blend with a bit of punch, this is the seasoning you call on. Exotic, floral and earthy, with a sweet finish thanks to the nutmeg and cinnamon, it's perfect for stews, meat patties and slow-cooked dishes.

Sassy Yellow Blend

A bright and aromatic Middle Eastern spice blend that adds some serious street sass to your home cooking. So bright, so warming, the sassiest of Jida's blends was born on the streets and is destined for your plate. Use as a delicious rub for your favourite protein and it'll do all the hard work bringing the authentic, aromatic flavours of the Middle East to your table.

Care and Packaging

To keep things fresh Store in a cool, dry place

Use within 12 months of opening (if you haven't devoured it all already)

Allergy Info

Heads Up! May Contain Traces Of Nuts Or Seeds.
customers love us
Customer Reviews
04/26/2022
Yana L.

Israel
Love it!
Super easy to use and everything is so delicious! Love it
01/26/2022
Mrs J.

Australia
Midfle Easteen Kit
Really good. Love cooking Middle Eastern food - with these blends makes it so much easier
01/26/2022
Mrs J.

Australia
Mediterranean Kit is great
Fabulous. Beautifully packaged. Fast service and tasty blends.
10/31/2021
Gilad G.

United Kingdom
Lamb Stew with Black Blend - Amazing!
We cook often at home and were looking for a fun way to 'Spice-up' our cooking. We found Jida to be a great way to enhance our cooking experience and love the unique flavor mixes. SO far we did several dishes, mainly roasted veggies and fish, but just today finished a great lamb stew which was generously spiced with the black blend (our favorite).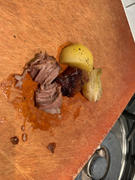 10/03/2021
Jo H.

United Kingdom
The best roasted vegetables I have made
It's absolutely amazing. I'm adding it to anything I roast in the over and it tastes incredible !!!️