How to use

Step 1

Mix

Mix a couple of teaspoons of any blend with olive oil and crushed garlic (if you like).

Step 2

Rub

Rub the mix into your chicken, beef, fish or veggies.

Step 3

Cook

Cook however you like—in the pan, oven or atop a grill—then serve and enjoy.

Ingredients

Nutritional information

Care and packaging

To keep things fresh Store in a cool, dry place

Use within 12 months of opening (if you haven't devoured it all already)

Allergy info

Heads up! May contain traces of nuts or seeds.
customers love us
Customer Reviews
10/31/2021
Gilad G.

United Kingdom
Lamb Stew with Black Blend - Amazing!
We cook often at home and were looking for a fun way to 'Spice-up' our cooking. We found Jida to be a great way to enhance our cooking experience and love the unique flavor mixes. SO far we did several dishes, mainly roasted veggies and fish, but just today finished a great lamb stew which was generously spiced with the black blend (our favorite).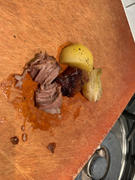 10/03/2021
Jo H.

United Kingdom
The best roasted vegetables I have made
It's absolutely amazing. I'm adding it to anything I roast in the over and it tastes incredible !!!️
10/01/2021
Damian O.

United Kingdom
Turn a dish to extraordinary
Totally loved using the smoky kit with our meal. We took what was a relatively bland roast chicken and vegetables and made it so much more delicious. Cannot recommend enough using this to liven up dishes and looking forward to trying all the others. This is going to be a regular addition to our family meals
09/29/2021
Sophia L.

United Kingdom
Fish Shawarma
Had a few friends over for dinner and made the fish shawarma recipe... My friends just couldn't believe that I've made it. It was that good! Thank you Jida!
09/29/2021
Sophia L.

United Kingdom
Amazing burgers (with Middle Eastern twist)!!
Mixed this brown blend with minced beef, caramelised onion, toasted pine nuts and a bit of salt. The result was incredible!! Can't wait for my next BBQ!