Perfect For
Fish
Rub on and pop in the pan for a flavourful catch.
Beef
Rub into your favourite cut for maximum tastiness.
Chicken
Use as a rub or marinade for finger-lickin' taste.
Veg
Sprinkle on, toss with olive oil & roast to delicious perfection.
Tofu
Coat and cook for planet-based perfection.
Mediterranean Kit Recipes
How To Use

step 1

Mix

Mix a couple of teaspoons of any blend with olive oil and crushed garlic (if you like).

step 2

Rub

Rub the mix into your chicken, beef, fish or veggies.

step 3

Cook

Cook however you like—in the pan, oven or atop a grill—then serve and enjoy.

What's in the kit

Kickin Orange Blend

Oh-so-versatile, this aromatic blend is sweetish in flavour with an extra lil' kick that keeps you coming back. The perfect dry or wet rub, it livens up chicken, oven baked veggies and pasta seasoning with its sweet paprika, firey mustard seeds and aromatic herbs. This blend is so versatile, we find ourselves sneaking it into absolutely everything!

Breezy Black Blend

A peppery, citrusy blend inspired by the sea-and-sun-soaked Greek islands—this easy, breezy blend will bring a taste of the Mediterranean to your cooking. Think garlic, salt, black pepper and a secret zesty ingredient… Persian lemon. It's like salt and pepper x 1000 and will bring your fish, chicken, steak and even salad dressings to life!

Wild Green Blend

Let your senses run wild with this fresh, herby blend that harnesses the taste of Italy. Citrusy (from the Persian lemon) and herbaceous (thanks to the parsley, rosemary, thyme and oregano), it's the ultimate zesty addition to any pasta, cheese, pies and focaccia seasoning.

Care and Packaging

To keep things fresh Store in a cool, dry place

Use within 12 months of opening (if you haven't devoured it all already)

Allergy Info

Heads Up! May Contain Traces Of Nuts Or Seeds.
customers love us
Customer Reviews
01/26/2022
Mrs J.

Australia
Mediterranean Kit is great
Fabulous. Beautifully packaged. Fast service and tasty blends.
10/31/2021
Gilad G.

United Kingdom
Lamb Stew with Black Blend - Amazing!
We cook often at home and were looking for a fun way to 'Spice-up' our cooking. We found Jida to be a great way to enhance our cooking experience and love the unique flavor mixes. SO far we did several dishes, mainly roasted veggies and fish, but just today finished a great lamb stew which was generously spiced with the black blend (our favorite).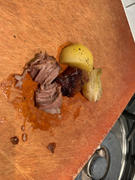 10/03/2021
Jo H.

United Kingdom
The best roasted vegetables I have made
It's absolutely amazing. I'm adding it to anything I roast in the over and it tastes incredible !!!️
10/01/2021
Damian O.

United Kingdom
Turn a dish to extraordinary
Totally loved using the smoky kit with our meal. We took what was a relatively bland roast chicken and vegetables and made it so much more delicious. Cannot recommend enough using this to liven up dishes and looking forward to trying all the others. This is going to be a regular addition to our family meals
09/29/2021
Sophia L.

United Kingdom
Fish Shawarma
Had a few friends over for dinner and made the fish shawarma recipe... My friends just couldn't believe that I've made it. It was that good! Thank you Jida!
Check out our other blends